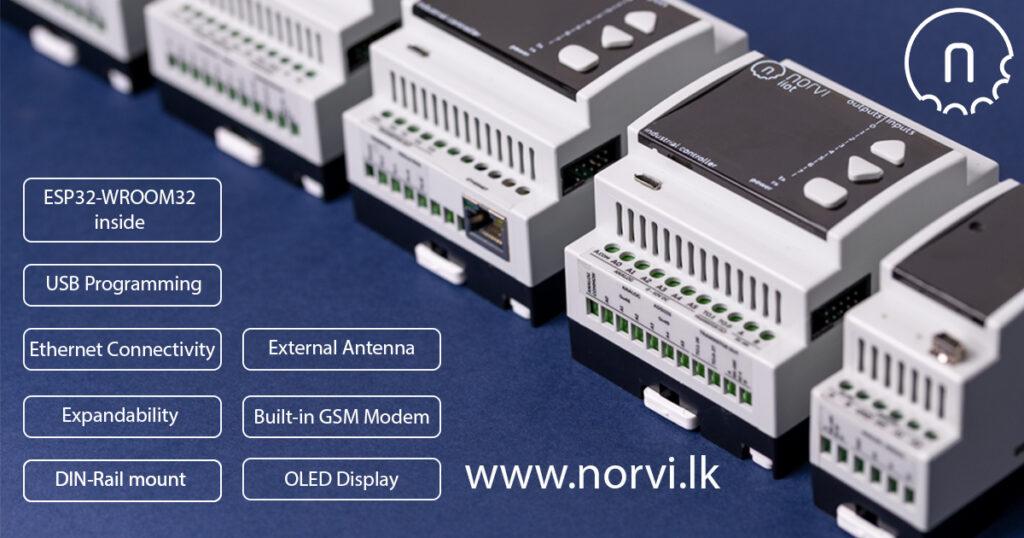 Why NORVI Programmable IoT Devices
– Cut build time and consolidate the process,
– Pre- certified products
– Ability to customize I/O requirements.
– Example programs for variety of applications.

Applications :
– MQTT End device
– Modbus sensor node
– Machine / Equipment monitoring system

Checkout our product range on https://norvi.lk/products/
The introduction of micro controller-based boards has sparked a surge in interest in embedded systems, allowing a large number of people to show interest in the field of micro-controllers and IoT. This has increased the scope and applications in which they are used. The advent of easy to use micro-controller boards have increased the scope within which micro controllers are being used, especially paving a path to replace the PLCs in complex control systems.
NORVI Industrial controllers are such programmable IoT devices based on micro-controllers. Unlike the usual controllers, these devices are designed with ruggedness and the ability to withstand extreme conditions, which makes them ready for industrial applications. Also they are designed according to the IEC standard which is usually at a range of current/voltage and interfaces for industrial applications.
Programming these devices are simplified by providing the facility to code these devices using simplified platforms like Arduino IDE, with step by step guides available to the users.These ESP32 based devices come equipped with digital and analog I/O, enabling them to detect digital logic states and analog inputs, depending on the choice of the model. Variety of models in the Norvi lineup are capable of measuring the environmental factors like flow rate, pressure, temperature and offer analog inputs (for dedicated voltage/current measurement) at the industrial level.
Setting up the Norvi devices only require lesser wiring, which offers more flexibility to management of the device. And mainly, it is to be noted that the cost of the Norvi devices is kept in a much affordable range when compared to that of PLC devices, which do the same task in an industrial environment.